Overview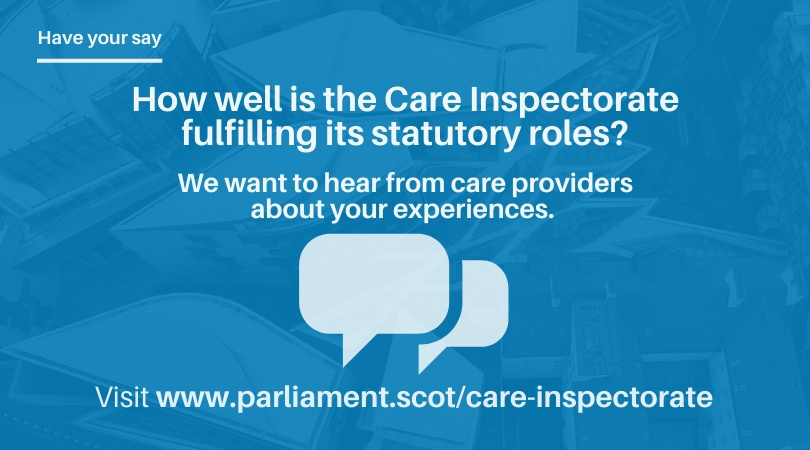 Thank you for responding to the invitation to provide your views to the Committee. We appreciate you taking the time to share your views and experiences.
The Scottish Parliament's Health and Sport Committee is looking into the work of the Care Inspectorate in relation to adult social care as well as its role and response during the COVID-19 pandemic.
We want to hear from care providers on your experiences between March - June 2020 and what can be learned from these. We are also interested in your views on the wider role and contribution of the Care Inspectorate in strategic reform of adult social care.
The experiences you share will support the Committee to question the Care Inspectorate at a Committee meeting on Tuesday 25 August 2020.
The Committee is not able to take up individual issues, but if you would like support or advice you can contact your Constituency, or Regional MSPs.
Please note, this is not the call for views for the Committee's inquiry into social care. More information on that separate inquiry is available here.
The Care Inspectorate is a scrutiny body that supports improvement. They look at the quality of care in Scotland and where improvement is needed, they support services to make changes.
The Care Inspectorate scrutinise a range of services in Scotland. The Health and Sport Committee is only looking at the following services as part of this piece of work:
Care homes for adults 

Care at home

Support services

Housing support

Adult placement
Find out more about the work of the Care Inspectorate at - https://www.careinspectorate.com/
1. Considering the pandemic, and its impact on social care services, what role should the Care Inspectorate have in ensuring those receiving adult care and support services are better protected?
2. What role should the Care Inspectorate have in creating a more resilient and sustainable adult social care sector?
You will be asked to provide up to three main points in your response to each question. 
How to submit your views
Please submit you views using the online submission form, linked to below.
The call for views will close on Monday 10 August 2020.
If you need advice, please contact the Clerks on the email address:  HealthandSport@parliament.scot
Before making a submission, please read our privacy notice about submitting your views to a Committee. This tells you about how we process your personal data.  If you are under 12 years of age, please read this privacy notice.
We welcome written views in English, Gaelic, Scots or any other language.