Overview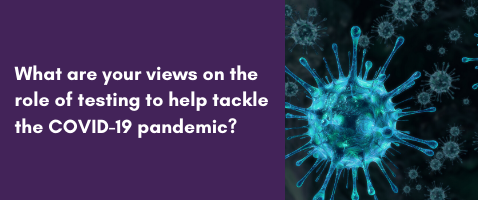 The Scottish Parliament's Health and Sport Committee is looking into COVID-19 testing.
The purpose of the Call for Views is to understand the role testing should play in tackling the pandemic and what is needed to deliver an effective testing regime.
The evidence you share will support the Committee to question the Cabinet Secretary for Health and Sport at a Committee meeting on Tuesday 26th May 2020.
What role should testing play in helping to tackle the pandemic?


 

What do we need to deliver this?
How to submit your views
Please submit your views via the submission form, linked to below.
The call for views will close on Monday 18 May 2020.
If you need advice, please contact the Clerks on the email address:  HealthandSport@parliament.scot
Before making a submission, please read our privacy notice about submitting your views to a Committee. This tells you about how we process your personal data.  If you are under 12 years of age, please read this privacy notice.
We welcome written views in English, Gaelic, Scots or any other language.